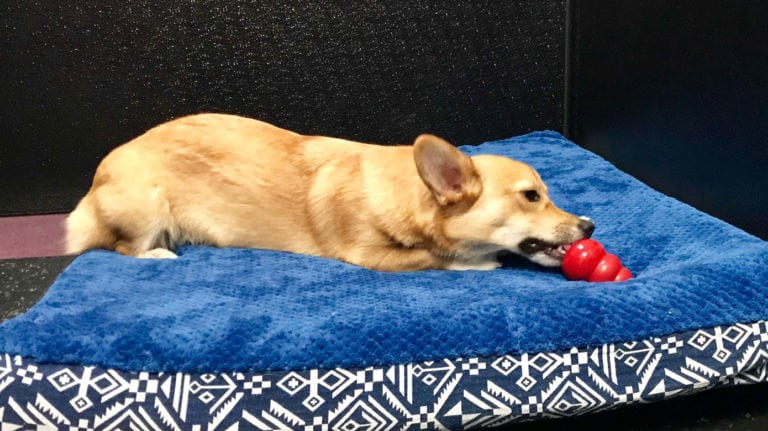 When your pet stays overnight at 4 Seasons Pet Resort, you can relax knowing they will receive all the love and attention they deserve. Whether you are going out of town or just need a night out on the town, your pet will be safe with us.
Our Standard Accommodations offer a comfortable, relaxing environment. After a day of playing with their friends, your pet will enjoy soft bedding, soothing background music and aromatherapy to help ease them to sleep.
For pet owners who really want to indulge, our lavish Luxury Suites feature a private climate-controlled room, an orthopedic bed, TV, activity puzzle, daily doggy ice cream or treat-filled Kong, nightly Skype with your dog, designated play areas, private entrance, and departure bath.
Our staff is on hand throughout the night to make sure all of our guests are comfortable and get a good night's sleep.
Boarding service includes:
Full day of play
Meal service up to twice daily
Treat-filled Kong
Dedicated staff in the building overnight
Rates
STANDARD ACCOMMODATIONS
$36 per night for 1 dog
$63 per night for 2 dogs
$90 per night for 3 dogs
$117 per night for 4 dogs
Dogs must live at same residence.
LUXURY SUITES
$56 per night for 1 dog
$84 per night for 2 dogs
$125 per night for 3 dogs
$150 per night for 4 dogs
Dogs must live at same residence.
Packages
Must be pre-paid, are non-refundable, and no expiration date.
1 Dog
$350 for 10 nights Standard Accommodations
$550 for 10 nights Luxury Suites
Refer a friend and receive 1 free night of boarding.
BOARDING HOURS
Drop Off/Pickup:
Monday - Saturday: 7AM to 8PM
Sunday – Saturday: 6AM to 8PM
Late Pickup: 8PM-10PM ($10 fee)
Sunday Drop Off: 7AM-9AM
Late Pickup: Not Available
LATE PICKUP
Please call 734-744-8062 if you're running late for pickup. $10 fee will apply for late boarding pickup. Additional fees for food and boarding will apply.